Upcoming Events
Don't miss out on these killer events!
If you like, go to our Visit page and scroll down to sign up to receive
emails to be the first to hear about and special events we have coming up!
RAD Fall Studio Stroll
Sat 11/9 - Sun 11/10
From 10am to 5pm on November 9th & 10 the River Arts District will host 220+ artists for the Fall Studio Stroll! Studios open their doors to the public, from near and far, to experience and collect amazing art in their studios and galleries. Attendees will enjoy two days full of special demonstrations and events, including unique workshops and gallery receptions.
Pop into Vivian on Saturday from 2-4pm for a drink as you stroll, and/or join us for dinner that evening! Dinner is served from 5-10pm and we have our popular VivNibs available at the Bar all night if you are just looking for a snack! Sunday we'll have doors open from 10:30am - 2pm for our lovely brunch, hope to see you then!
Hungarian Wine Dinner
Tues 12/3, 6-9pm
Join us for another wonderful wine dinner! This time we are embracing Chef Josiah's love of Hungarian Cuisine and pairing courses with the fabulous Hungarian wines from Rise Over Run! Pre-fixe menu and prices TBA soon!
bernstein family christmas @ Viv!
In honor of the VERY LAST Bernstein Family Christmas, Vivian will be offering boozy, festive $5 Cocktails to all those attending the play at the Magnetic Theatre. Simply show us proof of purchase for the show that evening, and you'll get a special cocktail at half the price! Feel free to either join us for dinner before the show, or come for a post-play cocktail, its up to you!
If you haven't got your tickets, snag em fast! The show will be on 12/5 - 12/21 on Thurs, Fri and Sat with showtimes at 7:30 and 10pm/
Weekly Events
Don't miss out on these deals every week!
HALF OFF ALL WINE BOTTLES EVERY WEDNESDAY!
At Vivian, we take a lot of pride in our wine selection. We offer about 80 bottles of different old world wines from all over Europe (with a few US new world stragglers). From classics like a Pinot Noir from Burgundy, to obscure varietals like Sciaccarellu from Corsica, we'll have a perfect wine ready for your evening! With half off Wine Wednesday, you can enjoy one of these bottles for quite the steal, at prices as low as $18 a bottle! Come enjoy some vino under the sun on our patio or over dinner where we are happy to suggest the perfect pairing!
Viv Nibs: SpeCial Food Deals EVERYDAY!
Come in and join us for a casual bite! We have taken some of our menu favorites, like our Nordic Deviled Eggs and Steamed Mussels, cut the portion in half and reduced the price by more than that! We are also letting the kitchen play around with daily specials that we post to our Instagram Story everyday.
You can enjoy VivNibs in the bar area Every Night, All Night! Nibs are available in the main dining room & patio from 5-6pm!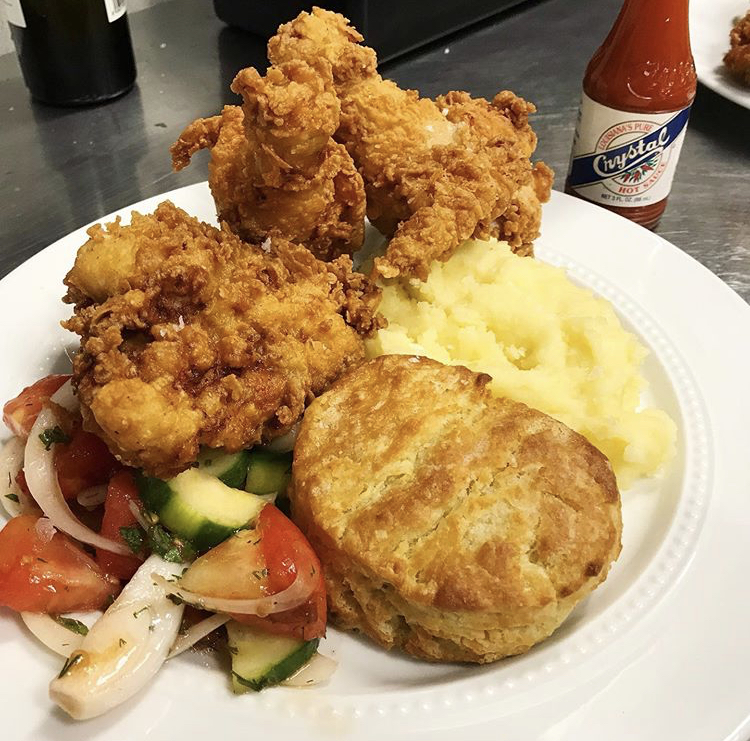 Fried Chicken DINNERS
EVERY THIRD THURSDAY
We obviously embrace a lot of old school European recipes on our regular menu, but there's always an underline history of being raised in the South with. What that translates to in the restaurant is a comforting gesture, a respect for local produce and proteins, a deep rooted hospitality, and an overall nostalgia for the food we were raised with. In honor of this, we'll have a southern throwback every Third Thursday of the Month in the form of a good ole' fashioned fried chicken dinner. We'll serve up three cuts of chicken, two down home sides, and one of our big buttery biscuits for $19! Make a reservation or just pop on in! Regular menu available as well.
Upcoming Dates: 9/19, 10/17, 11/21…and so on!